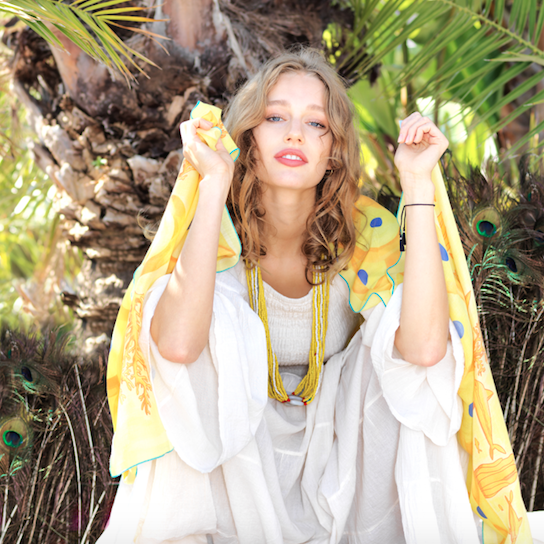 THE SHAWL Laozi
The Shawls - Holistic Meditation Scarf: LAOZI
€229,00
incl. VAT, plus shipping
Ships in 1-3 business days
Details
JOY
Laozi is a chinese philosopher, who existed in the 6th century B.C.
He is always smiling and loves to glide through life, dancing, being happy. His favorite colours are yellow and blue and he said once: "Courage is needed when you explain that the meaning of life is to be happy." 
So be courageous and enjoy yourself! Be happy! It´s a decision to be delighted and to feel the joy. Don´t worry about the future, don´t get upset with the past or other people - just accept. And be in the here and now. Be easy!
Laozi is giving you the energy for inner peace and deep harmony. Laozi wants to teach you to be with your mind and all your thoughts right now in this moment to enjoy life and seize the day. 
Let the bright light in your heart and do a litte bit more of what makes your soul happy!
The spirit animal dolphin symbolizes that you can jump easily over every obstacle - that no barrier will stop you. A dolphin´s
 playful nature is a reminder that everyone needs to approach life with humor and joy. 
The holy symbol in the centre of the scarf is the Flower of Life, which can be found in all major religions of the world. It stands for the seed of life, the one essential thing that matters in life...if we asked Laozi, the answer would be very simple. Spread the happiness!
The pattern was developed while meditating, when we were connected with Laozi himself. The Shawl is energized. 
-----
Size: 180 x 70 cm (the size of a Yogamat)
Material: 90% Modal, 10% Cashmere 
Handcrafted in an Italian family owned manufacture at the wonderful Lago di Como.
10% of the sold scarf LAOZI is donated to the Ionian Dolphin project, a dolphin aid project in Greece.