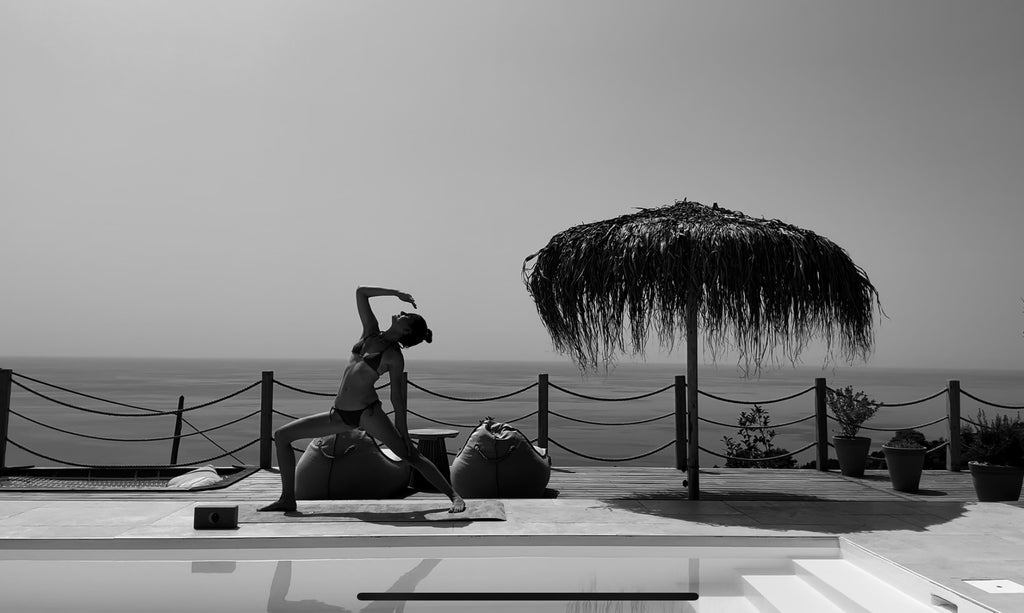 04- 08. Oktober 2023 MAATÏ MAATÏ METHODOLOGY Retreat: 4 Elements 4 Pillars 4 Nights 4 Days
04- 08. Oktober 2023 MAATÏ MAATÏ METHODOLOGY Retreat: 4 Elements 4 Pil
€899,00
incl. VAT, plus shipping
Ships in 1-3 business days
Details
INTRODUCING THE 4 PILLARS OF THE MAATÏ MAATÏ Methodology
- A journey to the Self -

Departure No. 1

Landing in Lefkada
4 Days - 4 Nights - 4 Elements.
We are releasing after many years of work and growth THE MAATÏ MAATÏ Methodology.

To celebrate this, we travel to a very special place with family and close friends.
We open that sacred space for you - soulMAATÏs - to join us on this magical journey - as without you, this would not have been possible.
Spots are very limited. First come first serve.
This is a Healing Journey.
This is a transformative travel to the soul. 
Learn to dance to the rhythm of this life, breathe together with Mother Earth, healing with father cosmos. 
REMEMBER THAT YOU ARE WATER. 
CRY CLEANSE FLOW RELEASE.
REMEMBER THAT YOU ARE FIRE.
TRANSMUTE. ADAPT. IGNITE. INSPIRE.
REMEMBER THAT YOU ARE AIR.
OBSERVE. FLY. BREATHE. FOCUS. DECIDE.
REMEMBER THAT YOU ARE EARTH.
GROUND. HEAL. BUILD. NOURISH.
A Healing Journey on the Soul Level. 
You will learn in 4 days the essence of the sacred MAATÏ MAATÏ Methodology.
Be part of this new era, the beginning of a new cosmos. 
The island of Lefkada is where Leonie, Co-Creator of this Journey and founder of MAATÏ MAATÏ was (besides Berlin) raised up as a child - she spent every summer on this holy ground together with her Greek family, who is living there. She learned the sacred ancient rituals of her grandparents and connected with the islands energy, communicating with every tree, plant, learned about herbal medicine from her grandmother and purifying water rituals from her grandfather. It is an honour to finally pass this ancient wisdom on and incorporate her modern mystical approach she learned through her own channels, 5th dimension new world downloads and physical travels around the globe, especially her time spent in Los Angeles, the City of Angels, where she worked with different healers and mentors.
The accommodation is placed some minutes away from one of the most beautiful beaches of the island in the middle of nature and built brand new - opening this summer with purified fresh energy. 
It is highly recommended to take a rental car and arrive from either Athens or Thessaloniki.
You will need a car to move freely on the island and explore its magic. 

Between the sessions and classes there will be enough free time for integration of our transformative healing work and to enjoy and explore the island´s magic.
The Arrival
1. Day: 
EARTH: Grounding.
2. Day:
FIRE: Burn, transform + enlighten.
3. Day
WATER: Cleanse, Flow, let go
4. Day
AIR: Fly, level up, live a higher life



What's included in the price:
4 days accommodation
Daily breakfast + 2 organized group dinners 
Daily Group healing sessions per day (1-2x daily)
1x personal energy work: 1:1 healing session w/ Leonie Lepenos (worth 222€)
Your personal MAATÏ MAATÏ Mat + Bag + Block (worth 400€)
Please note: The shared rooms are only available with double bed, no single beds.
4 Nights
Transport and flights are not included.