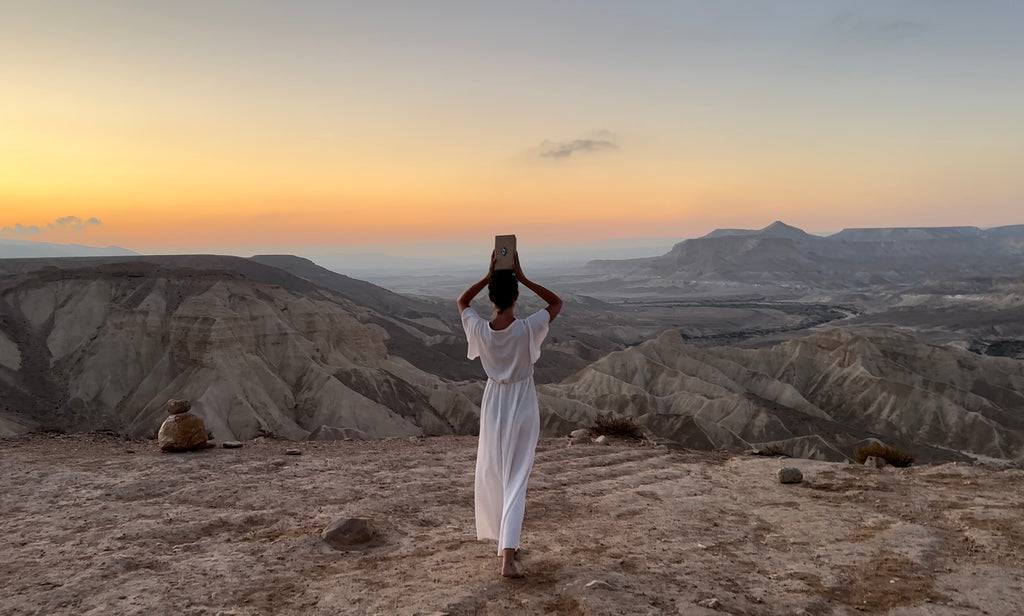 Personal 1:1 Higher Healing
Personal 1:1 Higher Healing
€222,00
incl. VAT, plus shipping
Ships in 1-3 business days
Details
The 1:1 MAATÏ MAATÏ Methodology
The world is changing and so are we. In these transformative times our souls chose to live in, most of us are gotten more conscious looking for a higher purpose and a deeper sense for a fulfilled life to truly make a change. Many of us feel the urge to be more aligned, in full power, more connected, loved and nourished - to heal. To make a shift, not also for ourselves, but this world we are living in. It is all about taking full responsibility right now - we got this one chance, this one lifetime here right now. If we do not live in alignment with our soul and do not live our truth, we might get unhealthy mentally or physically. We might feel blocked - opening up, bringing light into darkness in deep trust and abundance is the answer on different levels.
Leonie, founder of MAATÏ MAATÏ on the Methodology she channeled, which is the core of MAATÏ MAATÏ:

"Since my spiritual awakening 10+ years ago through a near-to-death experience, I now work as a medium and healer: I  guide people on their individual journey to their inner selves to meet their souls, leading into breakthroughs to create a healthier, more abundant, truly magical life with daily miracles to inspire more and more humans to heal first yourself and then widen the healing energetic field for the collective.
I co-created the MAATÏ MAATÏ Methodology. A technique to change the perspective - stepping into your higher self view living in Spiritual Luxury. I work with an energy field plus channeled messages from light beings in higher realms - I translate these into our language and coach you to connect with your higher self to find the right answers for your life in clarity.
You will feel connected. Some feel vital, crystal clear, sparkling -  some feel loved, confident and peaceful - some feel grounded, awakened. But for sure everyone: re-connected with your essence. Sometimes past life trauma come up to heal, sometimes ancestor healings are happening, sometimes the physical body is healed, sometimes a DNA cell repair happens, sometimes we channel together gifts from higher realms. Always sometimes, everything is possible. You can feel safe no matter what - holding your space. Doing this work in this lifetime since 10+ years around the globe. This 1:1 session can be a first baby step on your journey or that one step your soul was waiting for so long to finally make the big shift happen, it is up to you.
Being more connected, this life truly can be a wonder-ful experience. I am grateful for the support I get from the universe, light beings, angels and the ascended masters.
We start with an Energy Healing Session with the Touch of Oneness Technique – I clarify your energies and support the healing process of the chakras in your body. We work on solving blockades in your energy system, which may still hold you back from living a fulfilled life.
After the Energy Healing Session we analyse together in a talk what I felt energetically and what this  means for you and your personal future life.
I've led myself through some of the most challenging times of my life with the
 

MAATÏ MAATÏ Methodology and it's an honor to pass that on. I incorporate guided meditations, energywork, yoga and

 

constellation work, finding together your individual right path in life.
I take a holistic, compassionate and empowering approach to give you support in any situation in your life.
 To be remembered of your essence and your inner light.
Re-Discover your inner peace, joy, unconditional (self) love and connect with your soul to fulfill your individual mission in this life. Decide to rise. Consciously.


Love, yours Leonie
Coaching in German or English. Personally in Berlin at THE SACRED SPACE by MAATÏ MAATÏ or digitally. Duration: 1h
When you have booked your session, I will get in touch with you within 24h via mail to make an appointment personally.

For the Highest Best,

Yours Leonie