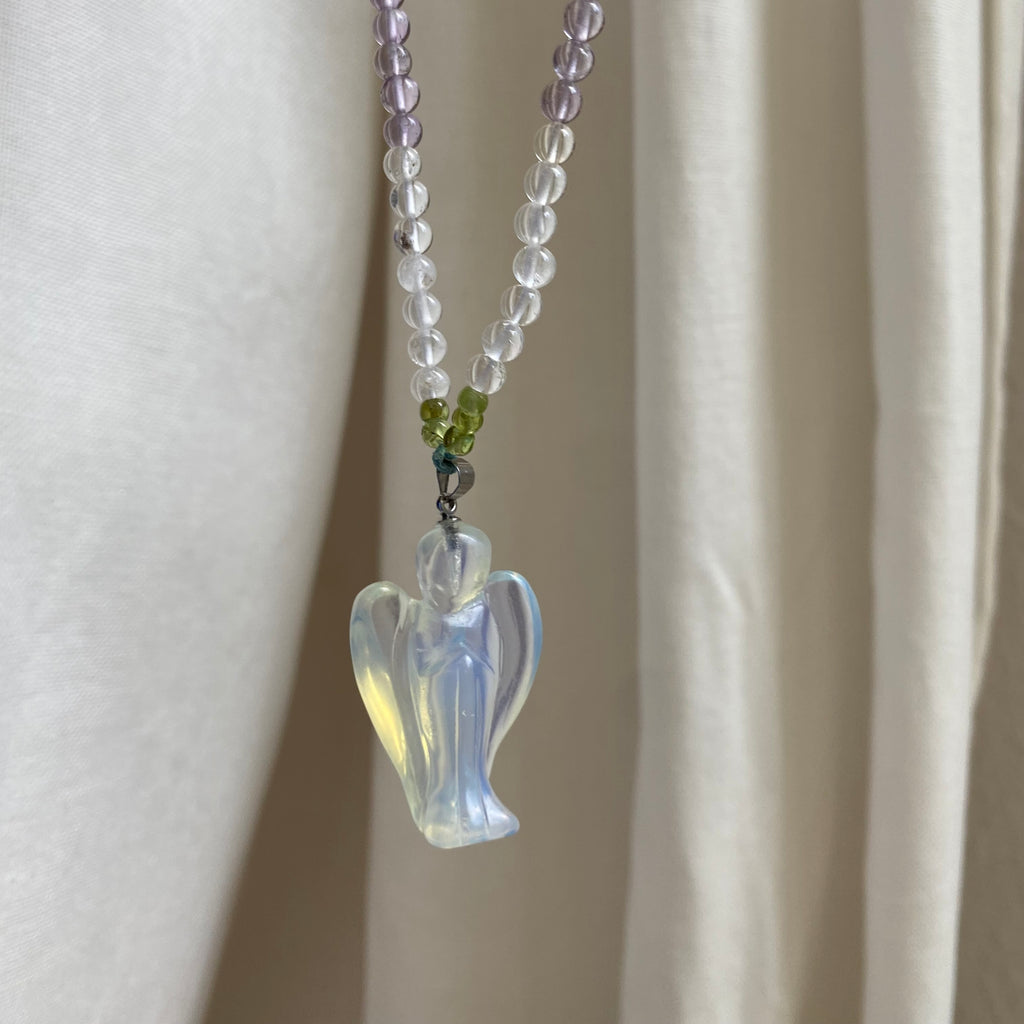 Angel Energy Pendant
Angel Energy Pendant
€111,11
incl. VAT, plus shipping
Ships in 1-3 business days
Details
Calling in the light, calling in the support and protection of angels. To fight for light - to spread that light.
The crystal glass angel pendant is energized: Giving us support to align our DNA with the crystalline 5D frequency. 

Helps us energetically to open up for higher spheres.

Wear the crystalline angel pendant in front of your beautiful Heart chakra to connect deeply with this energy.

It's one of our highest vibing products - supportive energies in the Angel Energy Pendant: Arch Angels Michael, Raphael, Chamuel and Gabriel (and some more, less known :))
Channeled and manifested by Leonie Lepenos.
Comes with a crystal gem stone chain. Leonie chose the powerful mix of these gem stones for highest best support:

- Amethyst: One of the most powerful healing crystals - a nurturer of the crown chakra, ever ready to re-connect you with the universal guidance,  cosmic plan and stack your soul with serenity.
- Clear Quartz: Brings clarity and purifying energy. Clear Quartz is one of the purest gem stones and is considered to be the light bringer. It's a very powerful amplifying stone, meaning that whatever you pour into it, will pour out tenfold. (So full energy power on here, soulMAATÏs!)
- Citrine: Its sun splashed energy is always filled with so much joy! This (sun) light bringing stone is known for its ability to bring an extra dose of success, grow through learning and let golden confidence rain down upon you to finally unfold the full potential of your soul.

- Peridot Olivine: The meaning of Peridot is purpose and focus - it was a fave of Cleopatra...and even beyond ancient times and tales of Egyptian queens, Peridot has a long and angelic history when it comes to those in power: High priests, priestesses, kings and queens were also smitten by this sacred gem said to ward off evil spirits - or in other words: the protection of angels.