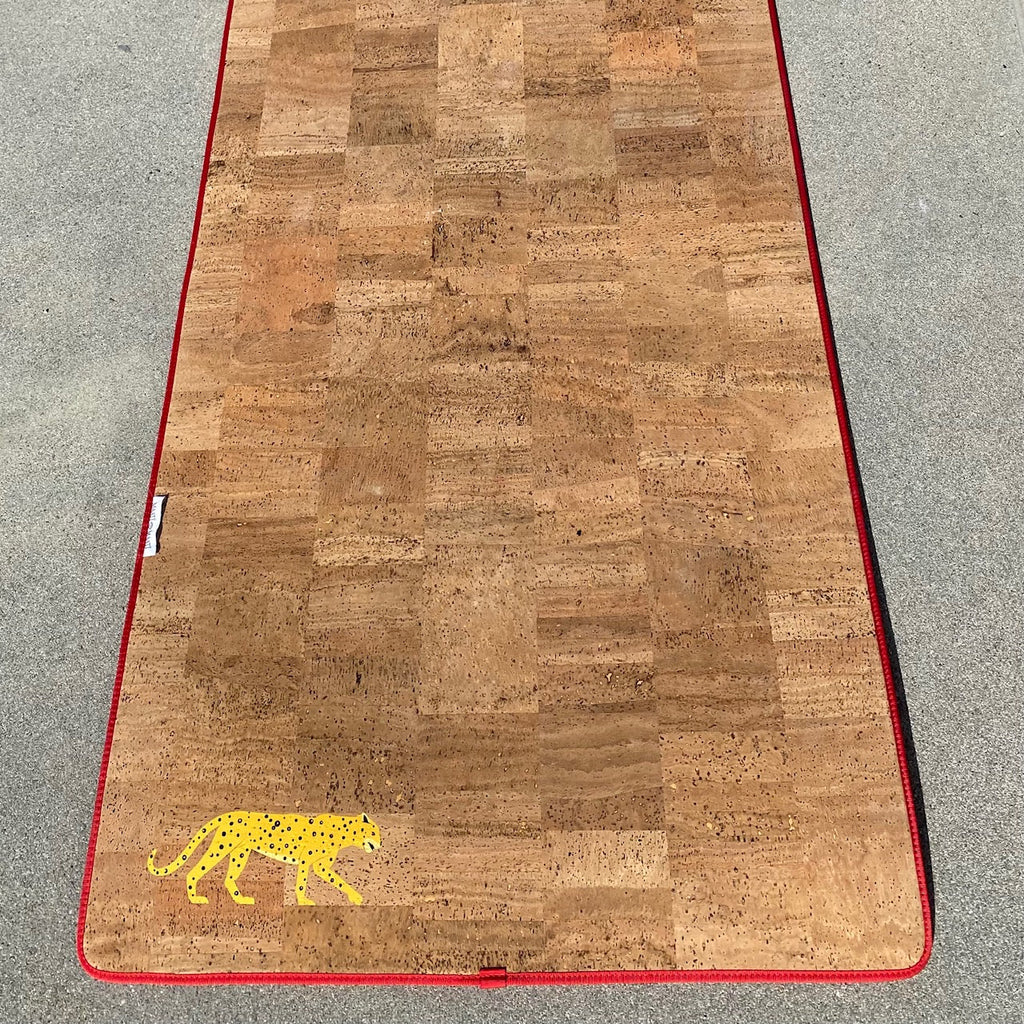 THE MAT Leopardo
THE MAT Leopardo
€269,00
incl. VAT, plus shipping
Ships in 1-3 business days
Details
THE MATS by MAATÏ MAATÏ are the first Premium Cork Yoga Mats worldwide - developed together with Portuguese Cork Farmers by sustaining the Portuguese tradition of harvesting organically by hand in highest champaign cork quality to support local farmers and mother earth for the highes best.

THE MATS by MAATÏ MAATÏ are different from the usual cork yoga mats, as we do not use agglomerated cork, but natural big slices of cork, which are brought together in a patchwork, making every single mat unique drawn by mother nature herself - while being more flexible, robust and with a better grip than usual cork yoga mats.
Made of natural cork from Portugal selected by hand - a sustainable material, that grows over 25 years on the cork oaks till it gets harvested and manufactured into our mats. We partnered up with local cork farmer families working traditionally: The harvesting of the cork oak is an ancient sacred process, which only the cork farmer families are allowed to and which is taught over generations. No gram cork is wasted: The cork dust that is remaining from the mat manufacturing, we use to produce our Cork Yoga Blocks, so that we create a whole sustainable cycle.

We donate 10% of the sold mats to a Portuguese aid project, that protects the Portuguese flora and fauna and especially the cork oak fields.
The Transformation Collection was created to empower bright souls to free themselves, following their very own path, living their soul purpose, owning that space, speaking up and shining in their brightest light and truest colors - reconnecting with the essence, remembering who we are and where we come from. Unleash the power within, embody your wild side and ROAR for the highest best.

It´s a collection to support the transformation of the world we are in right now - powerful energies, vibrant, colorful and loud. Energized with the lightful transformative frequency of healing, nourished by our planet mother earth herself for grounding - guided by heaven, the source, the light itself.
The MAATÏ MAATÏ Premium Cork Yoga Mats are:
- naturally water-resistant
- hygienic
- self cleansing
- dust-resistant
- super flexible
- anti slippery
- designed with a little extra cushion for your hips and knees during floor poses (6mm thick)
- lightweight (0,9 kg)
- made of natural Portuguese cork, harvested in traditional and sustainable way
- handcrafted in a family-run Portuguese manufactory
Also with humidity, the mats have the perfect grip. That´s why THE MATS by MAATÏ MAATÏ are also great for challenging Yoga styles like Vinyasa, Ashtanga, Bikram or Power.
We designed this mat with a little extra cushion for your hips and knees during floor poses
___________

Size: 1,83 x 0,60 m, 6 mm thick
Diameter: 12-15 cm (rolled) 
Weight: ca. 980 g.

Colour of the border: pink 
Made in Portugal
Certificates: ISO 9001 and SA 8000
___________

The donation is exclusively made when shopping our products via our Online Store.